Red Team – incident response assessment
To what extent is your information security department able to detect an attack?
It is not enough today to simply build up a wall using information security solutions. Even the most sophisticated and modern security system will be useless if your employees cannot detect a cyberattack.
There is a solution, it is training. You can organize an unexpected covert attack on your own company.
What is Red Team, Blue Team, Purple Team and why does your organization need this?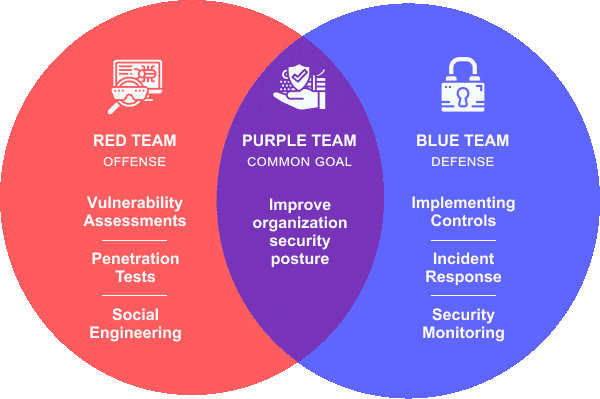 The Red Team's main task is to conduct the deepest analysis of your organization's security systems. Red Teaming allows you to understand how prepared your security department is for real threats. Unlike pentesting, this service implies a deep assessment of possible attack vectors at all levels, from social engineering and a web application to physical access into your server room.
The Blue Team's main task is to protect the organization's infrastructure and assets: the defense team is not warned about an attack. This is one of the best ways to test both the defense systems and the ability of security specialists to identify and block attacks, and subsequently investigate incidents. After the exercise is completed, it is necessary to compare the applied attack vectors with the recorded incidents in order to improve the infrastructure protection system and controls.
So who are the Purple Team? They combine the skills of Red and Blue Teams. Both teams work together to provide an ultimate audit. The Red Team provides detailed reports of all the performed operations. The Blue Team documents all corrective actions that were taken to resolve the problems found during testing. The Purple Team coordinates the actions of the Red and Blue teams, ensuring equal opportunities and not bringing the competition to an early end if one of the teams is obviously stronger.
Results of the Red Team cyber exercises:
Assessment of your cybersecurity team's readiness and ability to deal with real threats and detect potentially dangerous activity behind familiar processes
An efficiency evaluation of your specific information security systems, solutions, and controls.
Recommendations on how to improve information security hardening, monitoring, incident response, and many other processes and mechanisms.
Check out our additional services and business cases. Send the form below to request the Red Team or to get a free consultation.
Business cases of projects we completed
Contact us
As an option, use this form:
Thank you!
Your email has been sent