Remote information security specialists and managers
Outsourcing/outstaffing of IT and information security in the quarantine era is not just an effective solution, but an extremely profitable one as well. We have the best security specialists and managers with the most flexible working modes. We can also work on your behalf for your clients and provide white label services. Learn more about collaboration with us.
Why it is beneficial:
For large projects and deliveries, we cover a wide range of standards, develop and implement policies and procedures, work as DPO (for GDPR, etc.). We cover legal, organizational, training and technical security work in 4 languages and we have experience in different cultural environments and industries. It is very difficult to find such an employee.
For small projects and supplies, we can be hired even for 0.1 FTE (16 manhours per month). For such a low workload, you are also unlikely to find an employee.
Our high level of service is substantiated by our customers from all around the world. These include international information security companies: software vendors, security service providers, distributors, system integrators, auditors, etc.
Unlike an employee, we do not get sick nor go on holiday, since we substitute people in such cases.
Finally, we are more productive than in-house teams. A typical implementation of ISO 27001 by a customer themselves takes 9-18 months. We do the same job in 5-9 months.
---
Roles:
Application Security Analyst
SOC Analyst
Vulnerability Analyst
Identity and Access Management Specialist
Virtual Chief Security Manager
Incident Response Analyst
Risk and Compliance Analyst
Cloud Security DevOps Engineer
Investigation analyst
SIEM Engineer
---
The process of building cooperation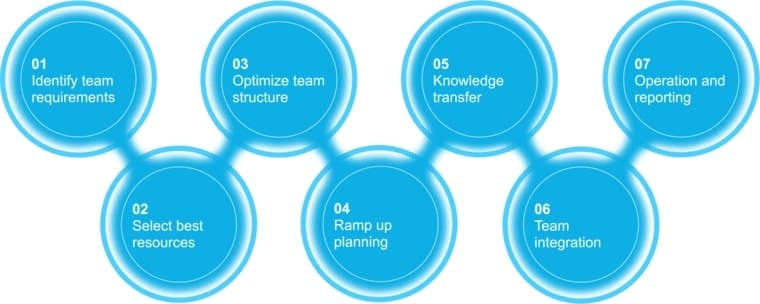 The process of building cooperation with us is simple: 1) we define the requirements for the team; 2) allocate the best people and other resources to fulfil these requirements; 3) we optimize the team structure; 4) plan; 5) brief people and bring them up to date; 6) integrate our team with yours; 7) we start the operations described below and report on them.
REQUEST A QUOTE
---
Operations and functions
We will develop a strategy and tactics for your information security, implement systems and processes, train your people, certify your company and will constantly maintain your security, in particular:
Monitor processes, systems, and security events, and proactively scan for threats.
Respond to all types of security incidents, including internal ones, and conduct investigations.
Participate in your work processes, provide application security, track and manage compliance.
Teach your software developers, testers, and other personnel.
Conduct regular security assessments including social engineering and Red Team.
Develop regular internal and external reports.
Virtual Chief Information Security Officer (vCISO)
Virtual Chief Information Security Officer (vCISO) is an outsourced information security manager. This is a top-level specialist who is responsible for the development and implementation of information security strategies and programmes for your organization, including risk management, regulatory compliance, consulting and teaching your personnel.
When ordering a vCISO service, you get a dedicated certified information security professional. If necessary, they can be substituted or supplemented by our other managers and specialists in order to ensure the continuity of service and the strengthening of specializations, for example, in the fields of application security, security event monitoring, etc.
Check out our additional services and business cases. Send the form below to request security professionals as a service. Get a free consultation.
REQUEST A QUOTE
Business cases of projects we completed
Contact us
As an option, use this form:
Thank you!
Your email has been sent