Strengthening IT infrastructure by reducing possible attack paths
When using any complex system, some functionality is inevitably left unused or incorrectly configured, which can become a breach in the protection of your virtual fortress.
Removing and correctly configuring this functionality will allow you to close the hidden pathways before the enemy uses them.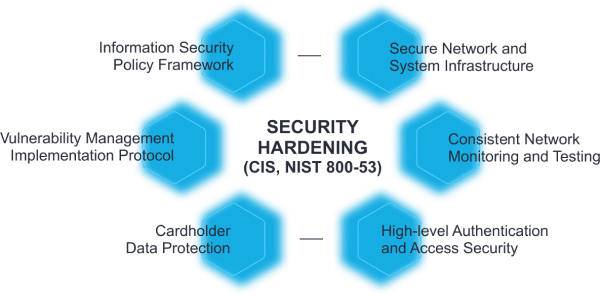 Strengthening systems and networks, also called hardening, often becomes one of the first steps towards improving the cybersecurity of an organization, and mainly consists of disabling some of the functions, limiting their capabilities, modernizing and improving components, etc. This significantly limits the capabilities of attackers, since it reduces the attack surface, i.e. the number of potentially vulnerable spots.
Server administrators often have a blurry view of their systems. Therefore, getting an external impartial investigation is extremely useful to strengthen your systems, which you can get with our help.
Best Practices
As MSSP, we have a lot of experience and are constantly learning new things, so our recommendations are up to date. We are guided by CIS Benchmarks, NIST 800-53, and other standards.
Wide coverage
Our experience and qualifications allow us to successfully protect almost any system and technology, from Windows NT/95 to the most modern cloud solutions, DevOps and CI/CD technologies.
With stability in mind
We analyze the potential impact of each recommendation to ensure the continuity of your business processes. We help you to test and securely implement changes.
Independent assessment
The absence of a conflict of interest allows us to speak directly about the problems we have found and look for ways to solve them. Such efficient and thorough coverage is often unattainable when customers perform the hardening with their own resources since their system administrators are overwhelmed by the day-to-day tasks, which they consider more important.
Our services will allow you to take an objective look at your IT landscape and develop measures that will have a lasting effect, reducing the work of monitoring security events, incident response, and mitigating the consequences of attacks.
Check out our additional services and business cases. Send the form below to request the hardening of your systems. Get a free consultation.
Business cases of projects we completed
Contact us
As an option, use this form:
Thank you!
Your email has been sent