Managed threat detection and response
Security event monitoring, threat identification and incident response
Managed Detection and Response (MDR) is proactive threat detection, continuous security monitoring and immediate incident response in any system: websites, network devices, servers, workstations, and standalone applications.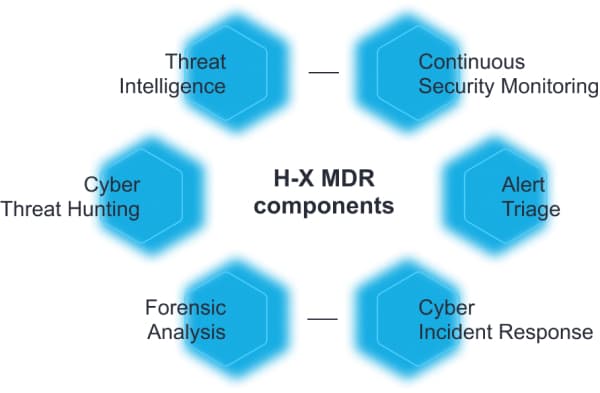 Tasks as part of the service:
| | |
| --- | --- |
| | Cyber threat hunting is a manual and semi-automatic proactive analysis of networks and endpoints for cybersecurity threats to identify malicious, suspicious, or risky activities that were not detected by automatic tools. Proactive cyber threat search tactics use new information about threats based on previously collected data to identify and classify potential threats, including APT (advanced persistent threat, targeted attack, covert ongoing cyber incident). See also our Threat Intelligence service. |
| | Continuous Security Monitoring & Alert Triage. H-X experts analyze security-related network data to find hidden threats that traditional security tools cannot detect. We use event logs, alerts, NetFlow, full packet capture, NIDS, SIEM, EDR, IDS, zero-day attack detection, and many other methods, tools and resources. This service effectively complements vulnerability management. See also our SOC as a Service. |
| | Cyber Incident Response & Forensic Analysis. This is an investigation and recovery method for incidents that occurred on digital devices, in order to detect and analyse any criminal or hacker activity. Our experts have extensive experience and expertise in incident response and they use this knowledge, combined with state-of-the-art cyber forensics tools, to comprehensively analyze incident data, regardless of the type and size of the incident. See also our Incident investigation service. |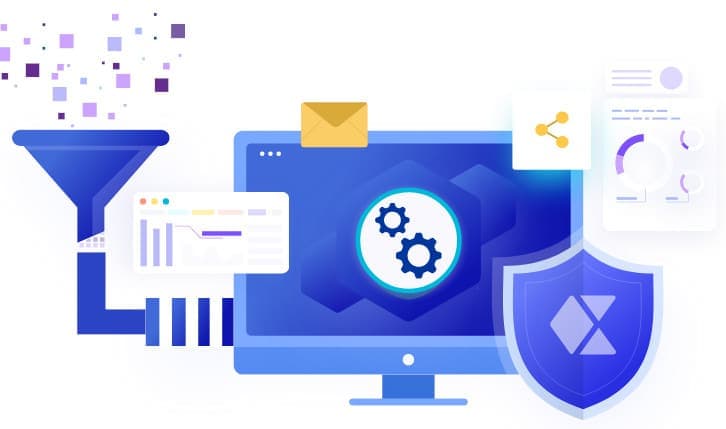 Threat ​​Intelligence
We dig for information to prevent or mitigate cyberattacks by examining threat intelligence and gaining knowledge about adversaries. It helps detect and prevent attacks by providing information about attackers, their motives, and capabilities.
Our analysts prepare organizations for proactive action with the ability to predict future cyberattacks, not just respond to current ones.
More about Threat Intelligence.
Check out our additional services and business cases. Send the form below to request a managed threat detection and response service. Get a free consultation.
Business cases of projects we completed
Contact us
As an option, use this form:
Thank you!
Your email has been sent