Optimal solution for complex automation of your company in the context of global crises
Economic, social and political instability on the planet creates financial and economic risks for start-ups and small and medium-sized businesses. Having built a company from scratch, we have automated our business and the businesses of some of our customers. We have created five exceptionally cost-effective and flexible software products: H-X CRM, H-X Task Manager, H-X Document Workflow, H-X AutoPDF and H-X Backup. Learn more about them and share our confidence in the resilience of core business processes.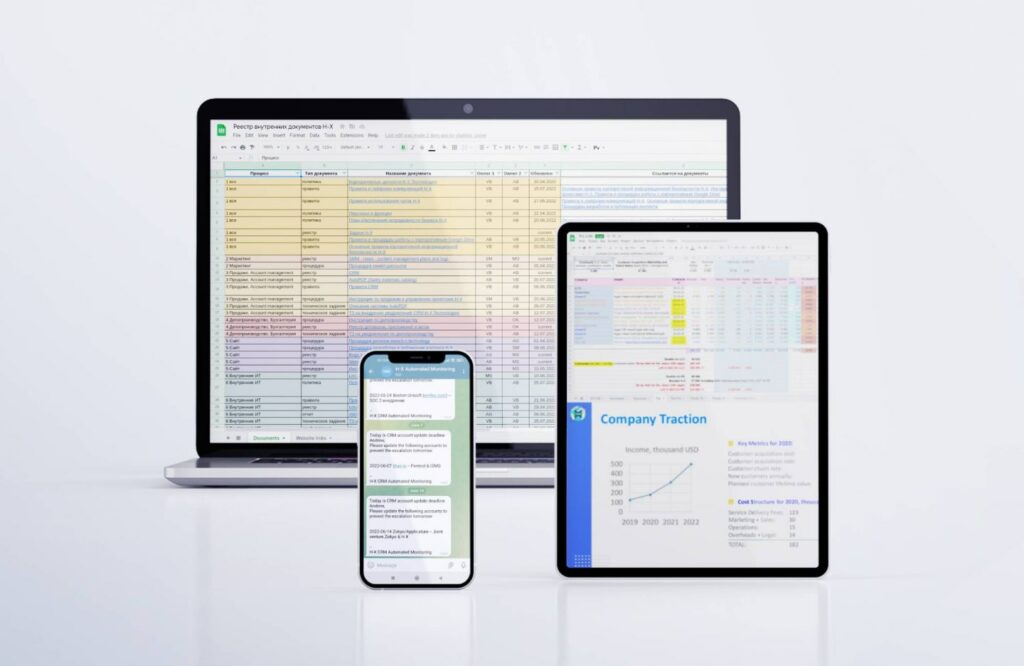 To automate your business, you can choose two fundamentally different approaches: develop the software yourself or buy a ready-made product. The peculiarity of our proposal is that it combines the advantages of both these approaches, thanks to the cloud technologies and modern development method – Low Code.
Advantages of developing software yourself:
maximum customization for your specific business;
almost unlimited functionality and scaling potential, including ERP functions;
new features are implemented fast and easy.
Advantages of ready solutions:
short implementation time – using our developments, you can implement and configure the solution having spent from one to several weeks, depending on the degree of customization;
predictable costs;
high stability and low error rate;
no need to look for and retain a development team, business analyst and project manager;
low technical complexity, thanks to which business owners or top managers can fully own these products, as well as actively participate in their configuration and improvements.
Unique advantages of our solution:
fast user training thanks to the familiar interfaces of Google Docs, Google Sheets and Google Slides;
simplicity, reliability and security thanks to open-source code;
availability dependence only on such giants as Google and Amazon;
supply-chain dependency only on such fundamental open-source projects as Linux and Git.
After a quick training, you will be in full control of your business automation system based on our products. Our software and all its components will be perfectly transparent to you. This will give you independence from vendors and technical staff. All valuable information will be stored on different continents simultaneously in the clouds of Google and Amazon Web Services. You will not worry about the safety of your digital assets even in the event of a full-scale nuclear war.
Related services
You might also be interested in:
Contact us
As an option, use this form:
Thank you!
Your email has been sent