Online Scanner Ranking: How to Find Out Your Site's Vulnerabilities Before Hackers Do It
The virtual world is no less dangerous than the real one. It also has its share of thefts, attacks and hacks, which almost every developer, owner and sometimes even the average user of websites faces.
Since any security incident damages the reputation and rating of the website and also entails the loss of traffic or a decrease in income, cybersecurity is a priority for the business.
How to secure a website quickly and easily? How to find out in advance how vulnerable it is? Can it be easily hacked? What if it's already hacked?
We did our best to answer the above-mentioned questions in this article by reviewing, comparing, and rating 23 website security inspection and analysis tools that are relevant in 2023.
An Overview of Website Security Assessment Services
The purpose of our review is to determine the optimal scanners for a quick assessment of website security by non-security experts.
Below are online web vulnerability scanners, so you don't have to install any software to use them. We divided all scanners into two categories:
19 universal website security scanners.
4 highly specialized website security scanners for the popular WordPress CMS platform.
Scanners are sorted alphabetically in each category, regardless of their place in our ranking.
Universal online website security scanners
1. Acunetix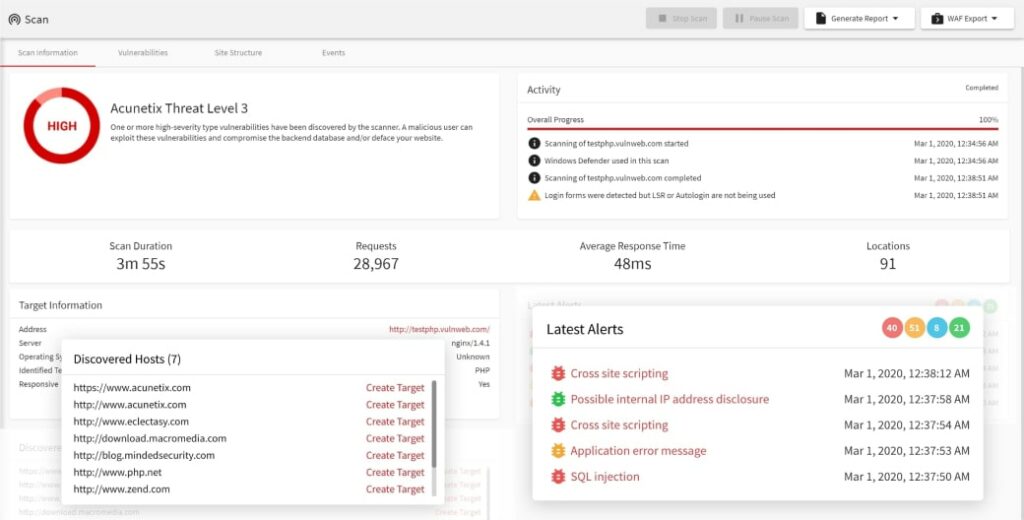 Acunetix Security Scanner scans a website for over 7,000 known vulnerabilities, and tests HTML5 pages and pages that require authentication. A temporary free version is possible, but it is quite complicated to get it. When scanning is done, the service provides a report with useful information.
2. AppCheck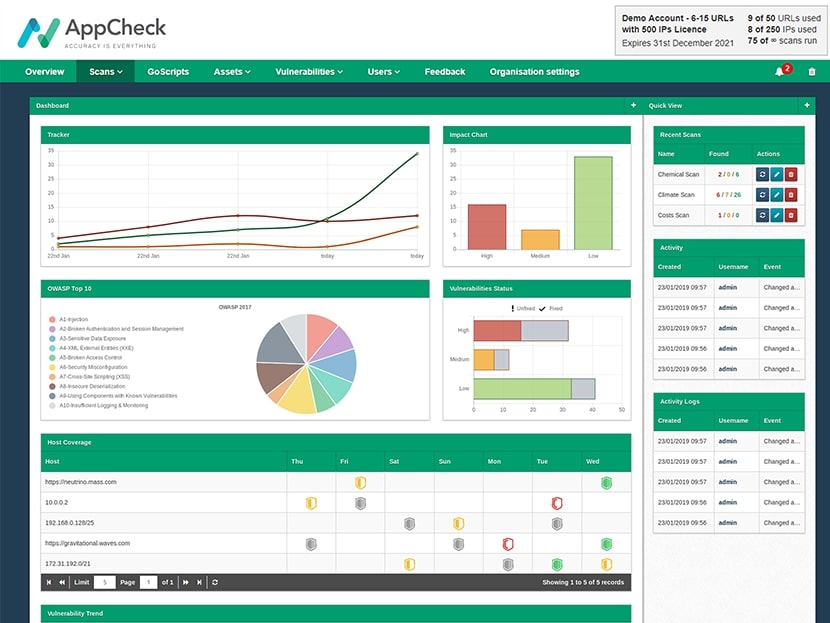 It is a commercial security scanner that works on the SaaS model. A free trial scan is available. The service simulates a manual penetration test process, provides OWASP Top 10 coverage, checks for zero-day vulnerabilities, and over 100,000 known security flaws by querying the CVE database. The service works relatively quickly and has a user-friendly interface.
3. Detectify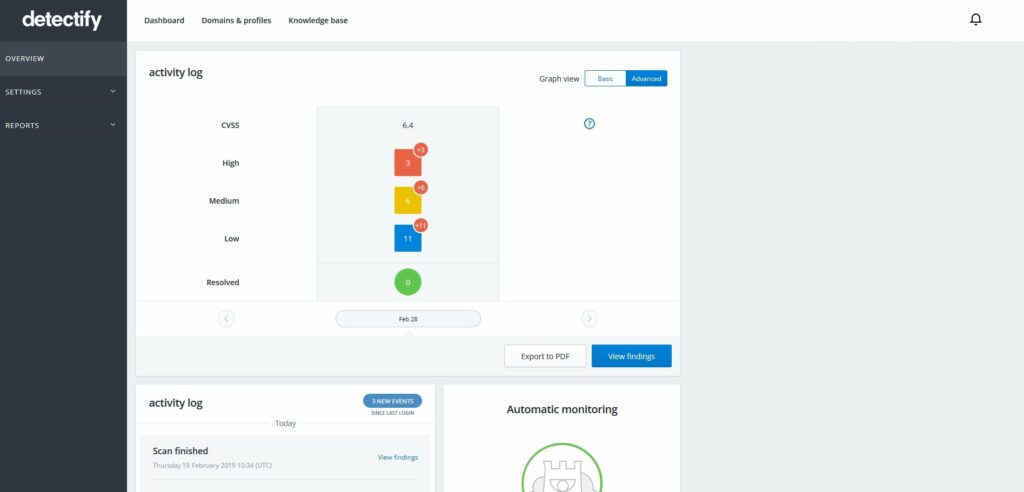 The service checks a website for several hundred vulnerabilities, including OWASP Top 10 tests. The tool allows the user to schedule regular site scans. There is a free trial version that can be used after registration. The scanner interface is quite complicated, but many companies use it in their activities.
4. EmailVeritas

It is a free online service that is primarily created to ensure the authenticity and security of electronic communications. In addition, the service scans URLs and websites for malicious URLs, including malware, fraudulent, and phishing links. It works fast and is easy to use. However, it has limited security testing functionality, since it does not check the site's vulnerabilities.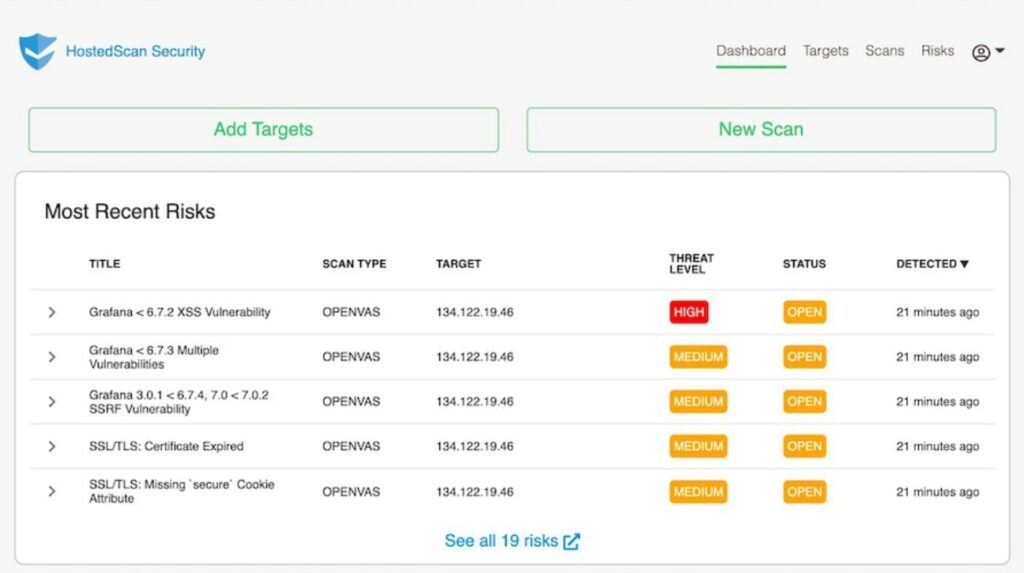 This online service allows you to perform 10 free scans per month. The tool has a clear interface with a dashboard, reports and alerts. The full set of scans includes OpenVAS, Nmap TCP and UDP, OWASP ZAP, and SSLyze. When scanning is done, the user receives a vulnerability report in any of the selected formats: PDF, JSON, XML, or HTML.
6. H-X Scanner
It is a free online vulnerability scanner. The service has a clear and user-friendly interface, easy to use, and does not require registration. The tool allows you to choose the scanning mode: fast or normal. Using the fast mode, you will get the first results in a few seconds after launch. A website scanning in fast mode takes only 5 minutes. The duration of the scanning process in normal mode depends on the complexity and size of the site. Scanning reports with a resume and details are sent to the email you specified. The reports have supporting functions for manual verification of vulnerabilities. H-X Scanner is a useful service that has been functioning for many years and has proven itself well with webmasters.
7. ImmuniWeb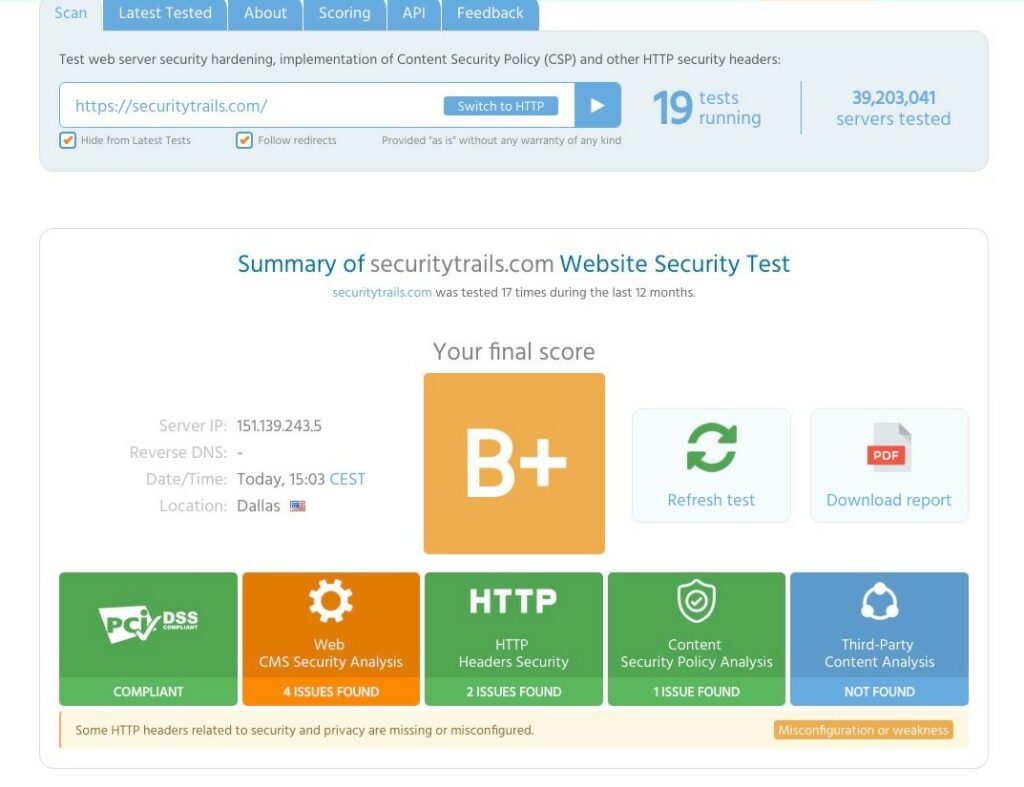 An online auto-scanner enhanced with manual pentests. The tool checks the site server and its compliance with the PCI DSS standard and the GDPR law. The scanning procedure takes a moderate amount of time. As a result, the user receives a report with identified vulnerabilities and ways to eliminate them. The scanner has a user-friendly and well-arranged interface.
8. Intruder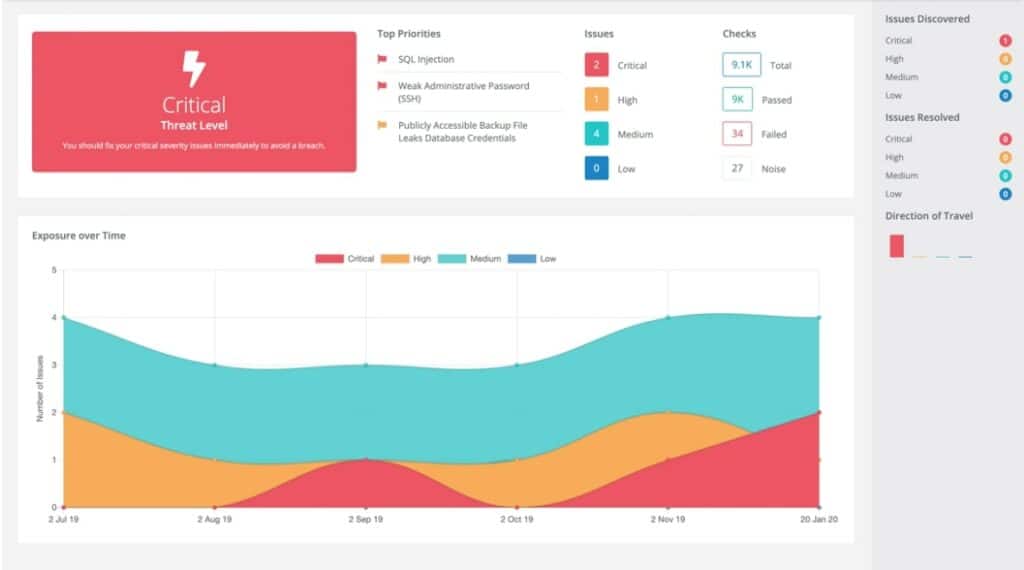 A commercial online vulnerability scanner that finds weaknesses in digital infrastructure. The tool focuses on perimeter scanning and can detect misconfigurations, encryption flaws, and application errors, including SQL injection, cross-site scripting, and OWASP Top 10. The service is free for 14 days. Registration is required. When scanning is complete, a report with a limited number of results is generated.
9. Invicti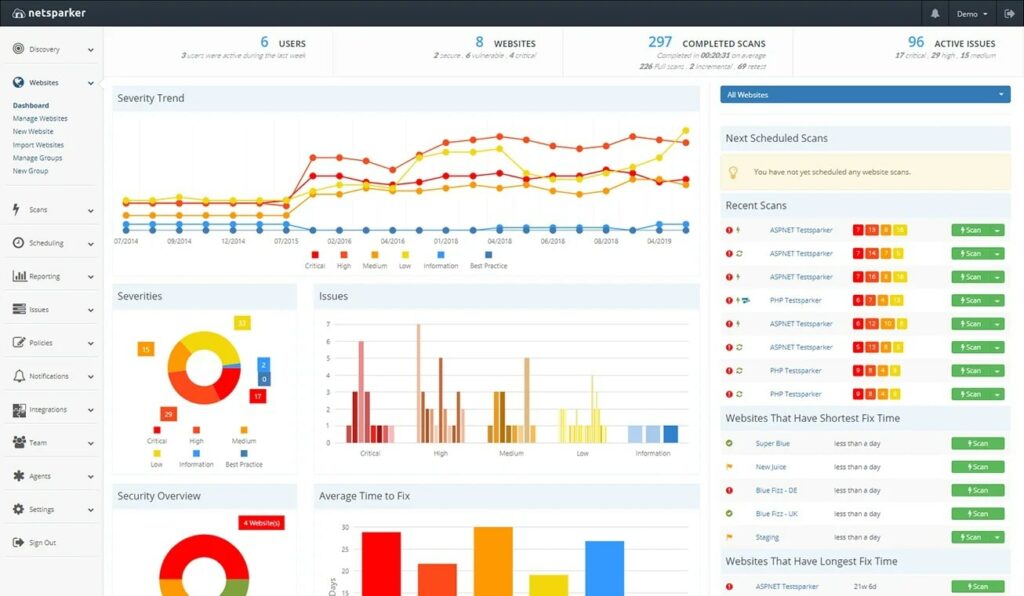 The commercial scanner is designed to scan all types of websites, applications, and APIs. The tool has a combined DAST+IAST scanning approach. Invicti has a rather complicated interface. At the end of the scan, the service provides numerous results. It is more useful for small businesses than for large ones.
10. Mister Scanner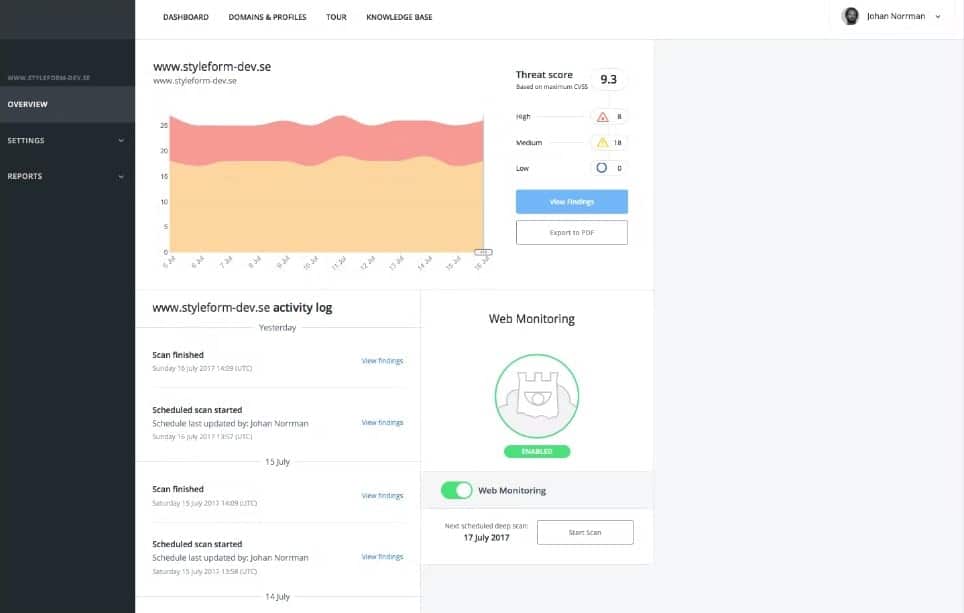 It is a commercial scanner, which performs automated website testing for over a thousand security issues, including OWASP Top 10 and SSL Tests. Mister Scanner assures that every report, even an automated one, is thoroughly checked by security experts. The service is not free, but relatively inexpensive. It offers different tariff plans to choose from and has an intuitive interface.
11. Pentest-Tools
The scanner performs a passive web security scan. It has free and paid functionality. The free scan can only be used twice. The Service may detect insecure cookie settings, insecure HTTP headers, and outdated server software. Scan results will point to such vulnerabilities as local file inclusion, SQL injections, OS and XSS command injections, etc.
12. Probely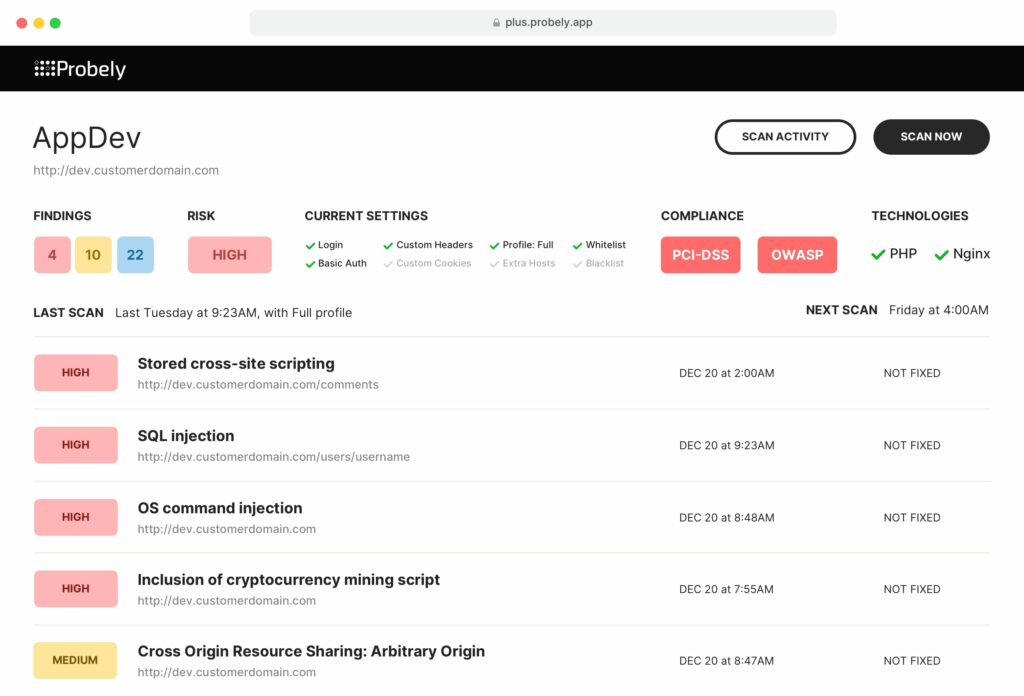 It is a commercial scanner with a user-friendly interface. The tool has a free trial version that is valid for 14 days. The service serves as an assistant for the development team, security team, DevOps and SaaS. The scanner works quite fast and provides a report on the results with detailed instructions on how to fix vulnerabilities. However, using the free version, you will get limited scan results.
13. Quttera
A free and fast tool to scan websites for vulnerabilities. It has an intuitive and easy-to-use interface. The service scans a website for malicious files, suspicious files, PhishTank, Safe Browsing (Google, Yandex), and a list of malware domains. At the end of the scan, the service provides a report with a relatively small number of results, and sometimes with false positives.
14. SiteGuarding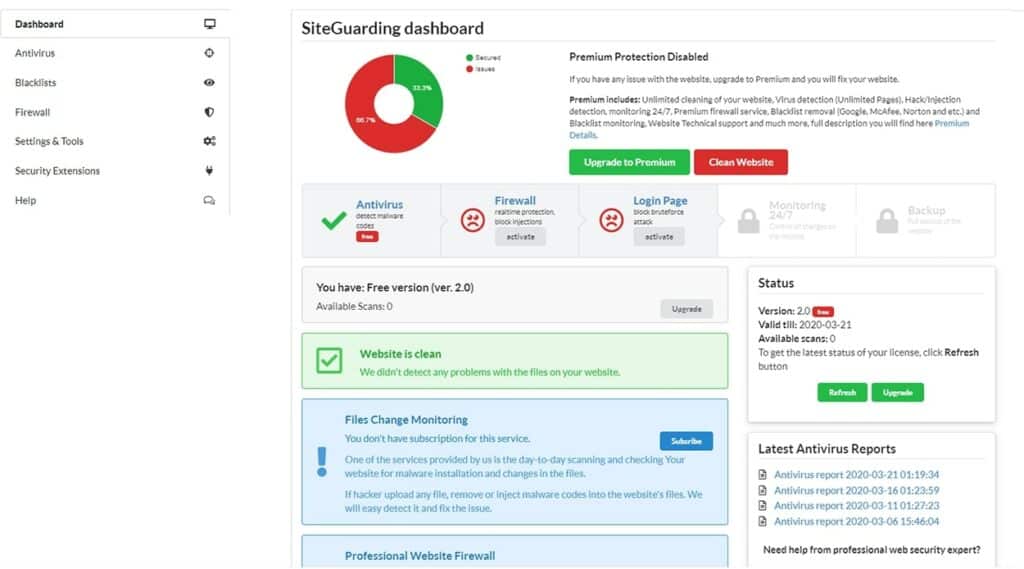 The service does not require registration but is not easy to use. Compatible with WordPress, Magento, Joomla, Drupal, osCommerce, Bulletin and more. The scanner is free. It can be used to determine the current vulnerability of a website to potential threats and malware. The service will also determine if your site is hacked now. SiteGuarding provides a report with limited scan results. The operation of this service is accompanied by intrusive advertising.
15. Snyk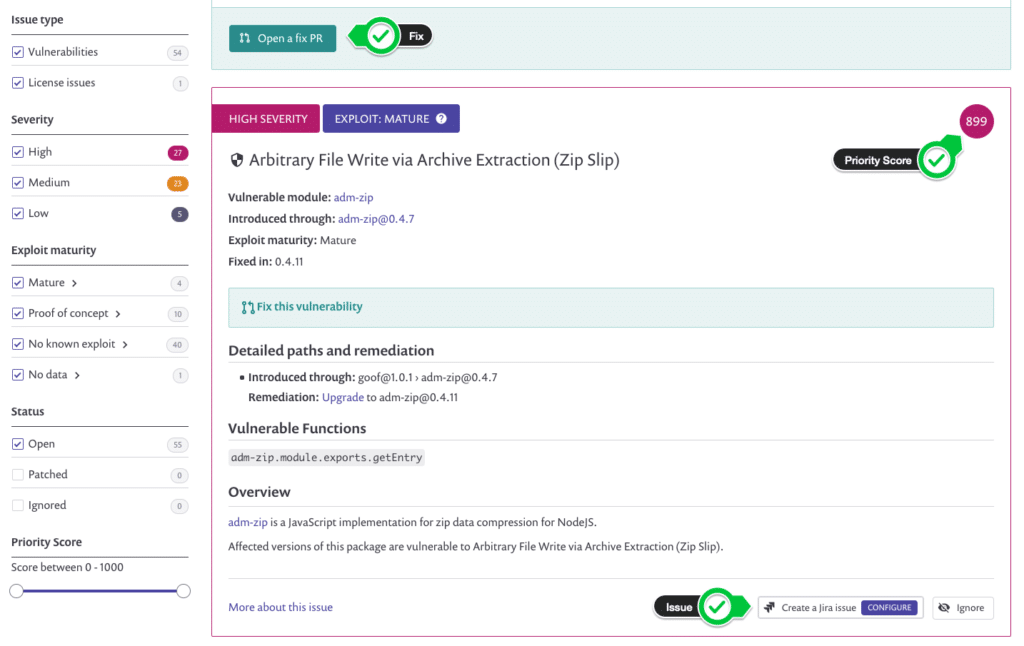 Snyk Website Vulnerability Scanner performs passive web security scanning to detect issues such as outdated server software and insecure HTTP headers. The free version of the service is suitable for individual developers and small teams seeking to ensure security during the development phase. However, using the free version, you will encounter limited functionality. The service is fast in operation, with a fairly simple interface.
16. Sucuri SiteCheck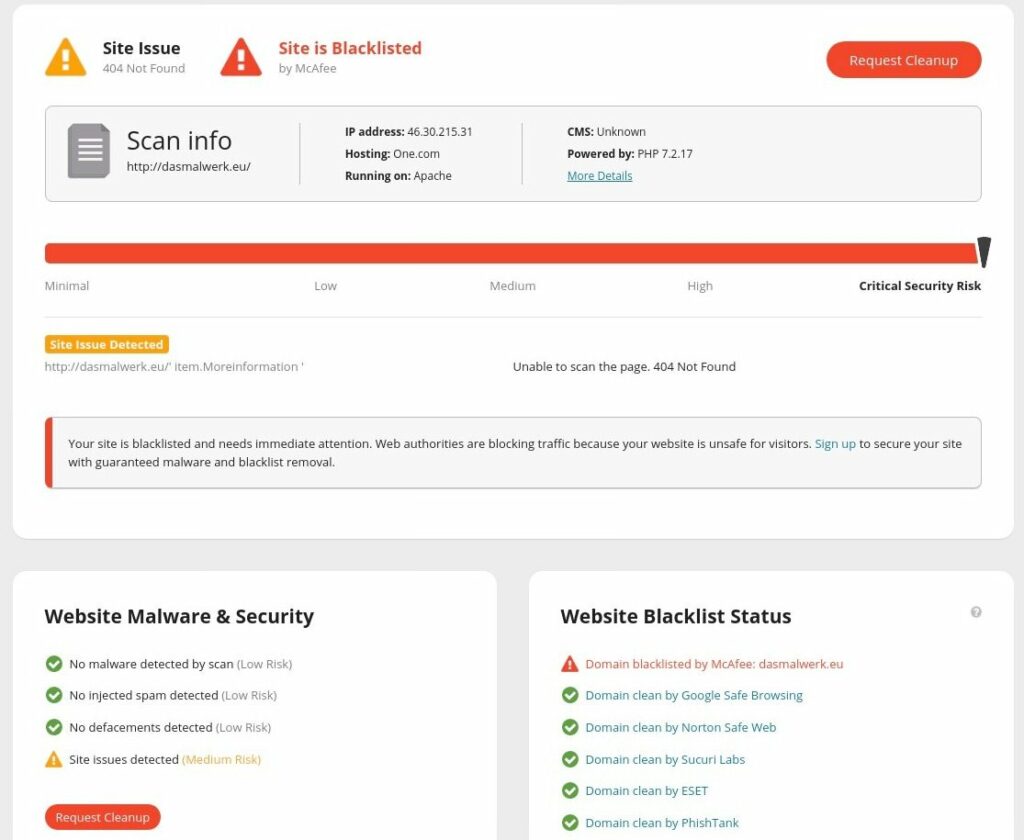 Free and easy-to-use scanner. SiteCheck scans your site for viruses, insecure protocols and headers, configuration issues, and outdated plugins and software. In addition, the service will check the presence of the site in the blacklist. This scanner is fast but provides a report with little information.
17. Tinfoil Security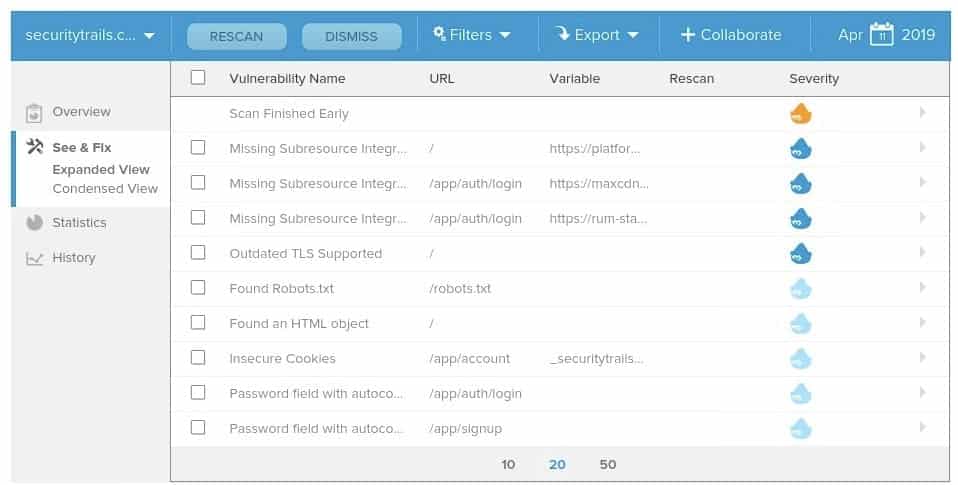 Tinfoil Security is a paid tool. The scanner first scans the site for 10 OWASP vulnerabilities and then for other known threats. It has a monitoring function. Setting up Tinfoil Security is fairly quick. As a result of the scan, a report with the identified vulnerabilities is generated. You can use this service to scan protected sites.
18. UpGuard Scan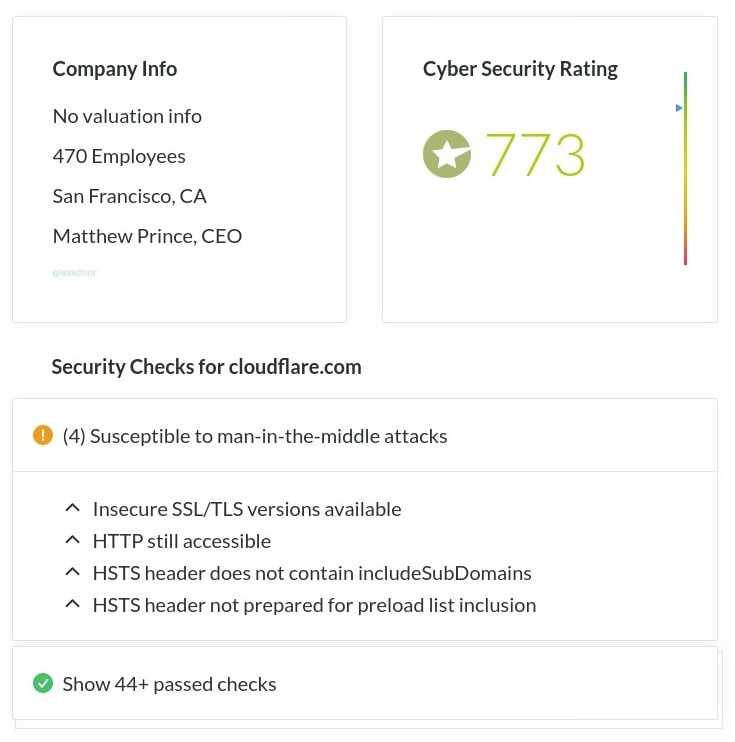 It is a paid tool. The scan uses publicly available information to assess risks against various factors, including SSL, Clickjacking attacks, Cookies, DNSSEC, and HTTP headers. With this service, you can detect the main risks on a website, in email, and a network. The service works quite quickly but has a complicated registration process. There is a trial version, it is free and valid for 7 days.
19. VirusTotal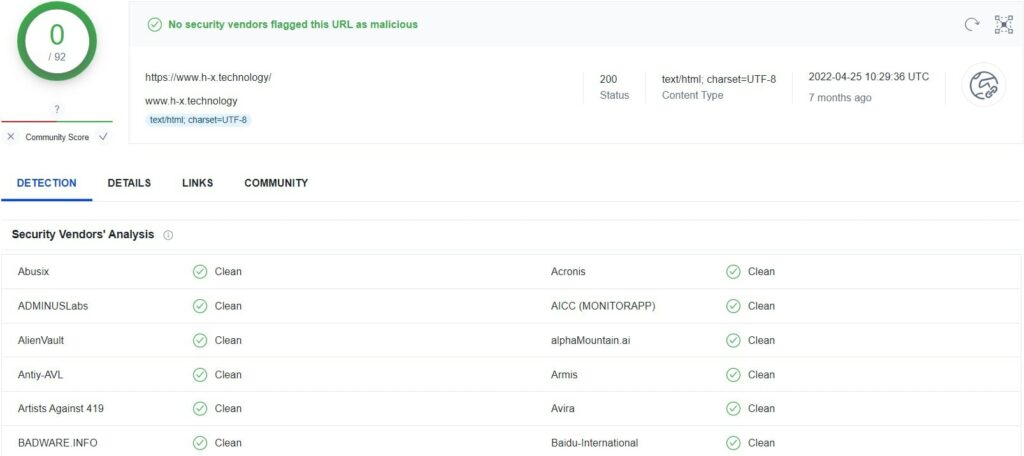 This online scanner is primarily designed to check the security of files. However, this service can also instantly scan a URL address. It aggregates blacklists of websites. The tool is very easy to use, but due to the lack of appropriate functionality, it does not give a complete picture of the site's vulnerabilities. VirusTotal is a free tool.
WordPress Website Security Scanners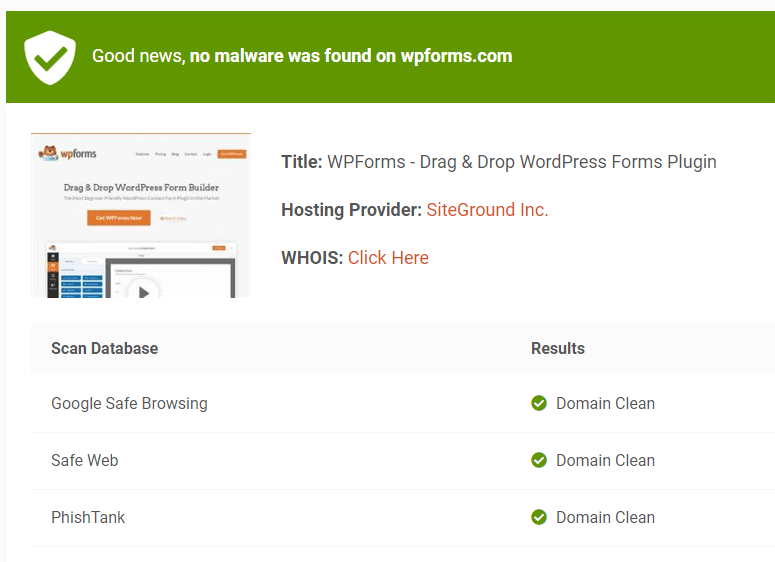 The scanner is based on the Sucuri engine. It scans the site for malware and suspicious activity, and checks if the URL is blacklisted. Scanning can be launched from the WordPress admin panel. The tool is free. It has a low speed, and as a result of scanning, it provides little useful information.
21. Security Ninja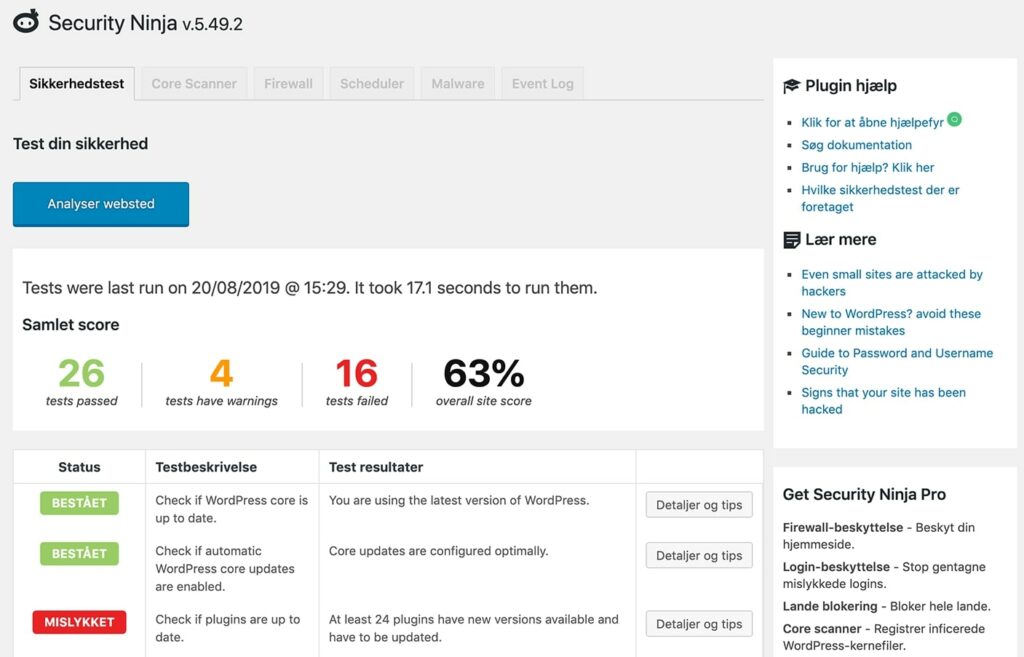 Security Ninja is a WordPress security plugin. The service offers a free demo. Scanning is launched from the WordPress admin panel. The free version can be downloaded from WordPress.org, but most of the proactive features are only available in the Pro version. Service setup is fast. The tool is easy to use. Basic checks include tests for installation options, file permissions, and database configuration tests. Scanning a small site takes about 2 minutes. As a result, a scan report is generated with recommendations on how to fix the discovered vulnerabilities.
22. WP Neuron WordPress Vulnerability Scanner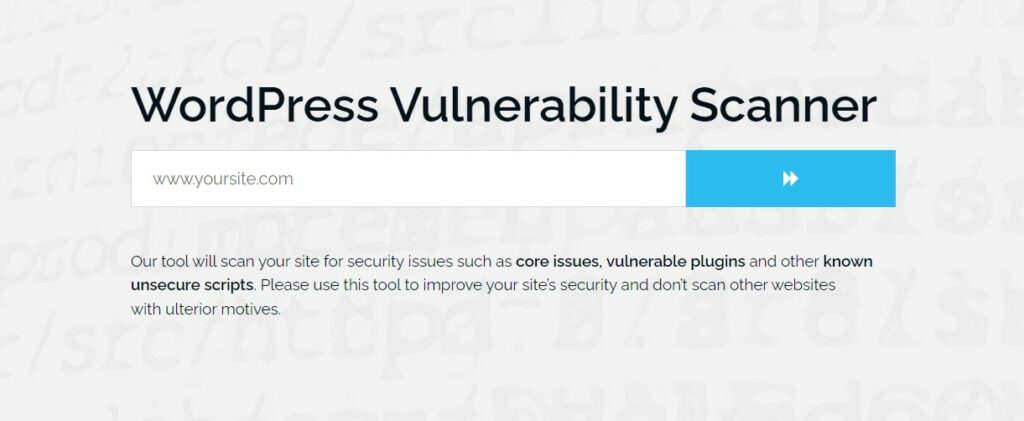 It is a free tool that aims to scan your website's plugins and themes. The scanner indicates if your version of WordPress is up-to-date, checks robots.txt, and lists weak passwords. It also scans all code to make sure there are no online threats. Works very slowly.
23. WPsec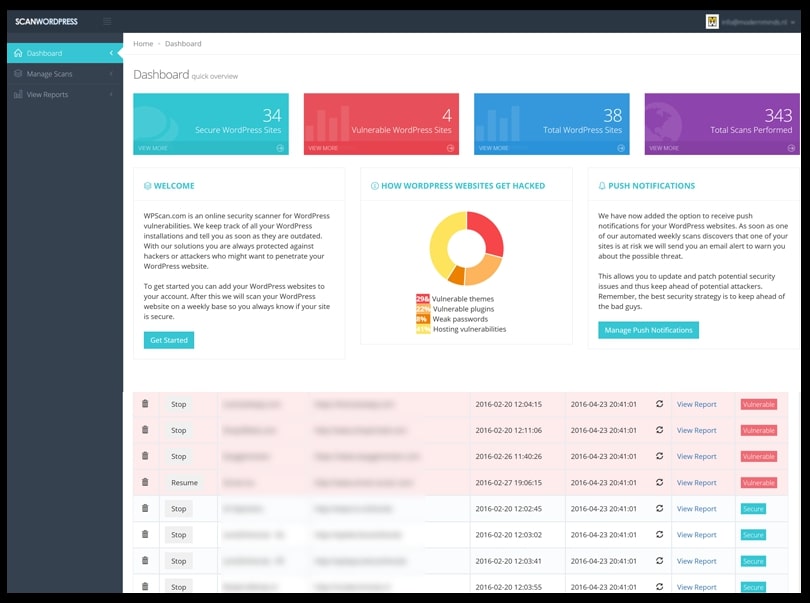 The service compares your site with the WPScan vulnerability database. It checks themes and plugins for vulnerabilities, checks the current version of WordPress and its components, and points out other security flaws. The scanner is easy to use and has a nice interface. However, the tool is slow in operation, and as a result of scanning, it gives numerous false positives.
Comparative analysis
Let us remind you that we aimed to identify fast, user-friendly, and free online tools for website security analysis. Services with complex registration, complex interface, slow operation, giving limited results lost points during evaluation.
In the results table, a score of 0 means "none or almost none", 1 means "partly", and 2 means "yes, completely or almost completely". To get the final score, we summed the first 4 evaluation parameters, and then multiplied the result by the estimated amount of free functionality.
In the group of scanners, our rating is as follows:
| Scanner | Free of charge | Simple to use | No registration | Speed of finding problems | Amount of free functionality | Final assessment |
| --- | --- | --- | --- | --- | --- | --- |
| H-X Scanner | 2 | 2 | 2 | 2 | 2 | 16 |
| HostedScan Security | 2 | 2 | 2 | 2 | 2 | 16 |
| ImmuniWeb | 2 | 2 | 1 | 2 | 2 | 14 |
| VirusTotal | 2 | 2 | 1 | 2 | 2 | 14 |
| Pentest-Tools | 2 | 2 | 1 | 2 | 1 | 7 |
| SiteGuarding | 2 | 1 | 1 | 2 | 1 | 6 |
| Sucuri SiteCheck | 1 | 2 | 1 | 2 | 1 | 6 |
| IsItWP Security Scanner | 1 | 2 | 2 | 1 | 1 | 6 |
| Security Ninja | 1 | 2 | 2 | 1 | 1 | 6 |
| Quttera | 1 | 2 | 1 | 1 | 1 | 5 |
| Snyk | 1 | 1 | 1 | 2 | 1 | 5 |
| WP Neuron WordPress Vulnerability Scanner | 1 | 2 | 2 | 0 | 1 | 5 |
| WPsec | 1 | 2 | 1 | 1 | 1 | 5 |
| Intruder | 1 | 2 | 0 | 1 | 1 | 4 |
| Acunetix | 1 | 0 | 0 | 1 | 1 | 2 |
| AppCheck | 1 | 0 | 0 | 1 | 1 | 2 |
| Detectify | 1 | 0 | 0 | 1 | 1 | 2 |
| Probely | 1 | 0 | 0 | 1 | 1 | 2 |
| Invicti | 0 | 0 | 0 | 1 | 0 | 0 |
| Mister Scanner | 0 | 1 | 1 | 1 | 0 | 0 |
| Tinfoil Security | 0 | 1 | 1 | 1 | 0 | 0 |
| UpGuard Scan | 1 | 1 | 1 | 1 | 0 | 0 |
| EmailVeritas | 0 | 0 | 0 | 2 | 0 | 0 |
Conclusion
Using any of the online scanners we have listed can help you identify, track down and fix security vulnerabilities on your website. To increase the effectiveness of site verification, we recommend running several different tools and comparing their results.
After we have tested all the scanners mentioned above and reviewed the results of the reports, we want to highlight a few worthy tools.
During the review of each service, we evaluated the following set of parameters: the possibility of free use, simplicity of use, speed of detecting problems, false positives, and amount of free functionality.
Thus, based on our experience, the top of our rating is occupied by H-X Scanner and HostedScan Security online scanners. These tools are great for quick website security assessments at any time of the day and can detect a significant number of vulnerabilities.
If your site is built on the WordPress platform, we also recommend using the Security Ninja scanner. Even though the main functionality is available only after you purchase the service, Security Ninja is the leader among competitors in the above-mentioned set of parameters.
If you want to take a step forward to a higher level of security, contact us for professional help.
---
Subscribe to our Telegram channel to make sure you do not miss any new articles on our blog.