Our vCISO service is recommended by the national retail leader
We are delighted to share some fantastic news! We have received a heartfelt letter of appreciation from one of our esteemed customers in Uzbekistan. The letter serves as a testament to the exceptional quality of our vCISO (Virtual Chief Information Security Officer) services and the significant impact they have made on our client's business security.
At H-X Technologies, we dedicate ourselves to each project, striving to deliver cutting-edge information security solutions to our customers. The receipt of this letter of appreciation reinforces our belief that our work produces tangible outcomes and positively influences the success of our clients' businesses.
The H-X Technologies team would like to extend our sincerest gratitude to our valued Uzbekistan client for their trust and glowing assessment of our services. We take great pride in safeguarding the security and data protection of our customers, assisting them in overcoming the ever-evolving challenges of information security.
We remain steadfast in our commitment to enhance our services continually and work closely with our clients to ensure they benefit from the highest level of protection against information security threats.
For your reference, we attach a photo of the letter of appreciation from our Uzbekistan client.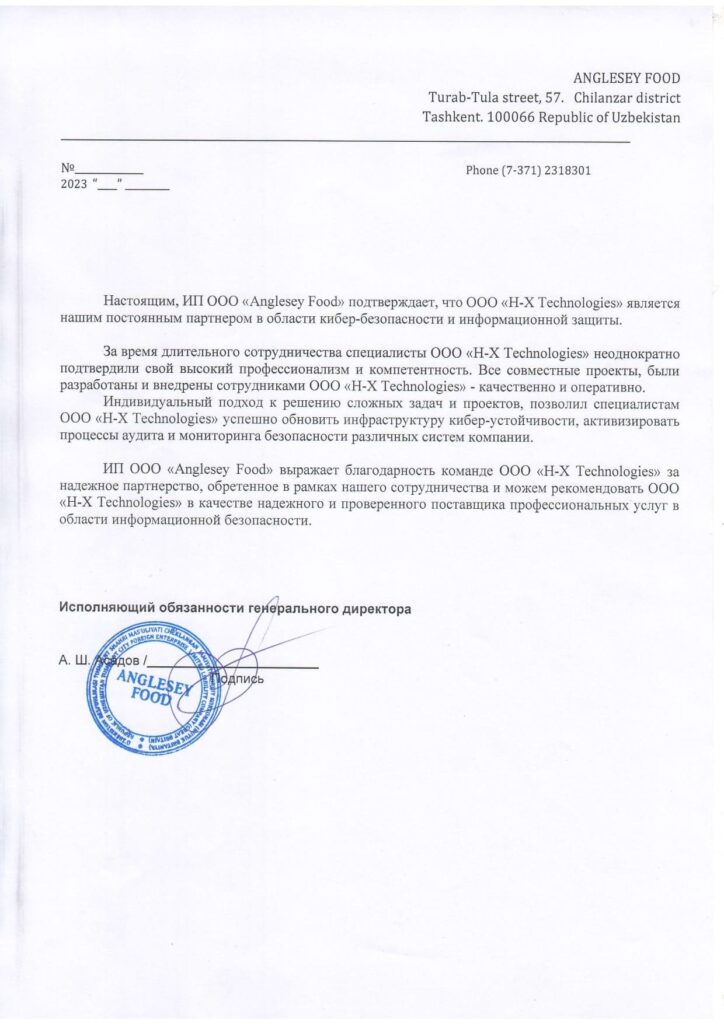 If safeguarding your business through robust cybersecurity measures is a priority, please do not hesitate to get in touch with us. We are here to provide personalised advice tailored to your company's specific needs.
__________________________________________
Subscribe to our Telegram channel so as not to miss our news.