When you're looking for a tech partner, how can you be sure to select the best provider?
Good question. A frequently overlooked — yet critical — component of outsourcing is customer reviews. Testimonials are extremely effective in building trust; they let you know that a company is a reliable, competent provider capable of tackling your next project.
But how do you know you can trust the testimonials? Clutch, a B2B market research platform, is a recognized authority in the field. Clutch lists leading IT firms and publishes honest, verified reviews about their projects.
H-X Technologies features many 5-star reviews at Clutch that testify to our cybersecurity expertise, and recently, we have been given the Top IT Services award.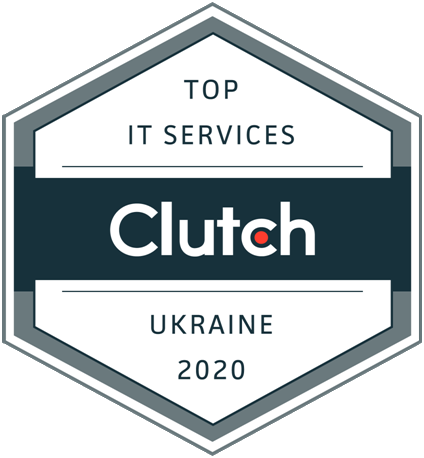 We're so honoured to receive this recognition. Given how many tech companies there are in Ukraine, it's a huge deal that we've come out on top in Clutch.
Over the last decade, Ukraine has become a hotspot for IT services. From software development to AR/VR companies, the country houses over 4,000 tech companies. Ukraine is also home to 200,000 developers and sees a growth of 25,000 – 30,000 tech specialists every year.
Here at H-X Technologies, we specialize in the services and solutions for the entire cybersecurity lifecycle. We proud ourselves on being highly qualified, flexible, and reliable.
Our Clutch award calls for some celebration. We'd like to highlight a recent review we received!
The review was for the information security testing we conducted for a stock exchange company. We performed static analysis, dynamic and penetration testing, and even a partial code review.
And what can we say? Our valuable client was more than pleased with our work.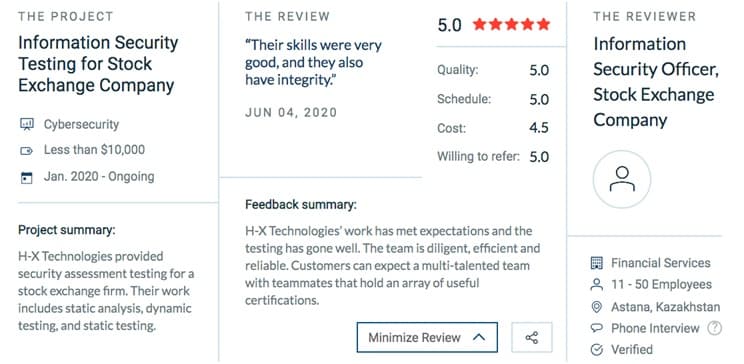 This happy customer is just one among many. We'd love for you to check out our other reviews on Clutch. They will prove that we're the perfect cybersecurity company to safeguard your business.
Come chat with us today!