H-X Technologies Records a Review from Clutch for Excellence in Online Business Protection
Today, many companies have been migrating their businesses online! This move has helped them to open a lot of possibilities, improve their outreach, and ultimately boost their sales. On the other hand, many companies, such as SaaS ones, build their business exclusively online, avoiding many of the threats pertaining to the physical world.
SaaS is a convenient service model for modern IT businesses. At the same time, the main business risks of this model are related to information security threats. Advanced persistent threats (APTs), supply chain and API attacks, and ransomware constitute a sobering reality. Any major cybersecurity incident can disrupt online business. Therefore, reliable and comprehensive cybersecurity is simply essential for SaaS. Partnering with a capable cybersecurity company should be on top of your list.
At H-X Technologies, we make sure that our clients receive the highest level of flexibility and reliability when it comes to their cybersecurity. Our team of cybersecurity professionals provides consulting services which include the assessment and implementation of information security, as well as training and workshops.
Recently, we have received a review on Clutch's platform. It is an established platform in the heart of Washington, DC, committed to helping small, mid-market, and enterprise businesses identify and connect with the service providers when they need to achieve their goals.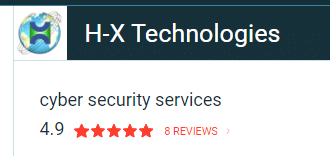 Our team was hired by a collaboration application named Favro. The client's main product is a project planning and collaboration application. We started by performing application and network testing. Today, our team provides this client with a wide range of consulting services, as we help them plan and implement the requirements to obtain and maintain ISO 27001 certification.
The Operations Director at Favro, Kirsti Wennberg, has these results to share:
"We're happy with the work that they've provided. We turned over H-X Technologies' reports to some of our customers, and they were impressed. Feedback has been positive. Our customers feel confident that our product is secure."
When asked about our most impressive traits, this is what Ms Wennberg has to say:
"They're efficient and show a sense of urgency. Even under tight deadlines, they don't compromise the quality of their work."
It is always an exciting feeling to receive such warm and inspiring feedback from our clients.
Apart from Clutch, you can also catch us as one of the leading IT companies in The Manifest. The Manifest is a business blog platform, and its mission is to gather and verify the hard data, expert insights, and actionable advice that you need in order to build your brand and grow your business. This platform provides the practical business wisdom that manifests in your success. Learn more about us on their website today!
In need of a capable cybersecurity partner for your business? Look no further, we got you covered. Contact us today and let's talk about how we can help.
Subscribe to our Telegram channel so you do not miss our news.